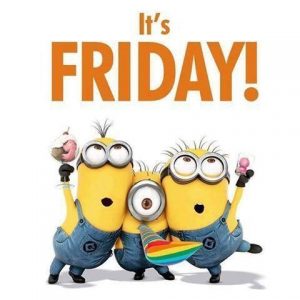 Friday is said to have gotten its name from the old English word: Frīġedæġ, which means: Day of Frige.
This, of course, is according to Wikipedia. And it further says that Friday is associated, in many cultures, with the goddess of Venus.
For some countries, where Monday is conventionally held as the first day of the week, Friday is the fifth day of the week. For Sunday-first countries, it is the sixth day of the week. For workweek and weekend countries, it is also the first day of the weekend.
Whatever position it holds within the week or weekend, Friday is, and may I add nowadays, a day of the week many look forward to. Whether formal office workers, business owners or working from home, many people generally see Friday as the "bringer of good tidings."
Of course, not Friday the 13th. But that's talk for another day.
Friday has the traditional, and world accepted, Thank-God-It's-Friday mark. Of course, for some people, it's Thank-Goodness-It's-Friday.
Again, whatever it's called, TGIF is a big day everyone looks forward to. I read, and only this morning, that TGIF was originated by an undergrad student somewhere in the USA.
I didn't, and don't intend to, investigate its verity. It's negligent fact, in my opinion… at the moment 
.
What is key is that in 1996, R.Kelly helped spread the TGIF spirit with his song: Thank God It's Friday. And that Friday, a day most "sane" people look forward to, everyone leaves their place of work, or place of no-work, in the festive spirit of gaiety and keeps that spirit up until they stagger into their beds at 3.a.m. on Saturday morning…
For people with the YOLO spirit, of course.
So… Today is Friday. It's Thank God It's Friday. TGIF. And wherever you are, whatever you are doing… hopefully not committing a crime…
Just lift up your spirit, get buoyed up, prepare for 5p.m., or maybe it's 6 or 7p.m. for you, time doesn't matter, just get in the mood and get ready to celebrate Friday… in a happy, crime-free, hurt-no-one (including yourself) way.
Enjoy your Friday, folks.
#TM ready to rock