ABOUT TM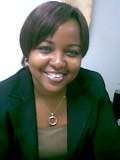 My name is Theodora David-West. Penname is TM David-West (that is what you're officially allowed to use *wink).
I am a writer. I have been writing, on and off, since the age of 13. Writing is a passion for me. I think of it as 'what I do best', it certainly is one thing I never have been completely able to toss aside. Thinking up storylines and 'seeing' them unfold and sparkle into life before my mind's eye is a rare pleasure that ticks off an itch to write and to produce that life through words.
I tend to write mostly the Romance Genre. But I have also been known to 'test-drive' other genres. I have no wish to be boxed into a particular genre; I just want to write and to write well.
I am also a blogger. I started blogging with the aim to share my thoughts and my writings with people. And of course, there is the desire to earn extra bucks via the magic world of blogging *wink*.
Being a blogger, I am, therefore, the CEO of Life and Spices.com… *wink* *wink*.
I am also a wife, a mother-to-be, an every-now-and-then business woman, a Christian, a passionate romance reader, a twitchy TV-addict and a great lover of food and cake… oh, that could be classified under food, I forgot *wink*.
ABOUT LIFE AND SPICES.COM

Life and Spices.com is a fiction-based blog, mostly.
While the blog is dedicated, in the most part, to the writing and sharing of well-crafted stories, it is not limited to doing just that.
Life and Spices.com, like most blogs, is a culmination of individual pages and categories. These pages and categories share the fictional and non-fictional writings of TM David-West. And beyond writing, Life and Spices.com celebrates life and celebrates its readers and members.
It celebrates the spice that makes life liveable.
e-BOOKSTORE

This is a vital part of Life an Spices.com and of TM David-West.
The Life and Spices.com e-Bookstore is thus named because it is a bookstore focused mainly on the sale and distribution of eBooks.
It is, at present, dedicated to the sale and distribution of works written by TM David-West. But the future can only bring greater things.
TERMS AND CONDITIONS OF LIFE AND SPICES.COM

 All literary works posted here are the intellectual properties of TM David-West, unless otherwise stated, and should be treated thus.
Therefore readers and blog members are ONLY invited to read, enjoy and be a part of the blog through the sharing of their thoughts.
Use of any intellectual property of this blog—Life and Spices.com—is only permissible after a reception of a written consent (in forms of letters, emails or text) from the Writer of such an intellectual property—and in this case, TM David-West.
Unauthorized distributions of copyright works of this blogs via any means which include but are not restricted to these forms of reproduction and transmission—mechanical, photocopying, recording or storage in a retrieval system—are HIGHLY PROHIBITED without the prior written consent of the Writer.
This Prohibition also applies to all eBooks (and by extension, all intellectual digital works) sold at the e-Bookstore.
CONTACT ME
Readers, blog members, and business-minded folks *wink*, can reach TM David-West via:
EMAIL: admin@lifeandspices.com
TEL: +234-7013641732
OR by simply filling out the contact form on the 'CONTACT TM' page.
And so, I, TM David-West, officially welcome you to LIFE AND SPICES.COM and invite you to relax, read and by gosh, remark *wink*.