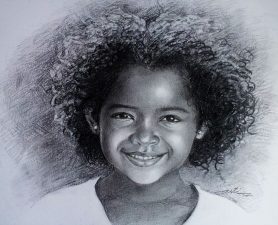 If I could wish for a daughter
Maybe I'd wish for a dark-skinned goddess
Always smiling, a pearl toothed ajebota
One smart and svelte, or a robust bundle of human sweetness
Whom I, and her mother, would lovingly call Nneka, Fatima or Kofoworola.
.
If I could wish for a daughter
Maybe I'd like a light skinned bundle of ebullient feminine delight
Well behaved, with an infectious laughter, eyes sparkling bright
Talented much, an angel of dance, poet or a queen that sings
Dotun, Lola, Moyo, or maybe an Oluwaseyi.
.
Alas…
.
Sad to say, I won't be wishing for a daughter
At least not now, not any time soon, maybe not even for ever
Abi, why wish for a gem, in this topsy-turvy world
Of discrimination, rape and the cruel ignorance of genital mutilation
Why swell victimized numbers, birth another to suffer societal indiscretions?
.
I'll rather work for female lives to get better
And it starts with recognizing and fighting, for the rights of her mother
Education, gender equality, security and respect, the freedom to choose for herself
To create a world where, her existence isn't testosterone dependent
A world that sees her as a person first, not a chattel, not 'the weaker sex'
.
Only then, would I my stance be reconsidered.
.
Get on the horn, sweet talk to God, Santa, Orunmila…
Or whichever benevolent higher power, sits in charge of dispatch
About delivery of a gift that continues giving the world, forever
The gift that'll be pride for all, a daughter.
*** ~~~ ***
A Poem dedicated to the girl child.